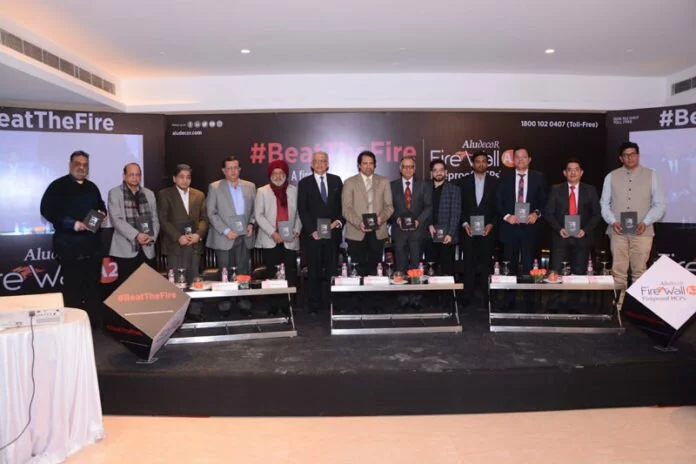 Delhi, 26thFebruary 2019: With burgeoning fire incidences in our country and the associated damage of properties and human loss, it is high time that the stakeholders of the industry congregate aiming at deciding preventive strategies, align to Fire Safety norms and offer their concerted opinions towards finding solutions to minimize such catastrophes. India, over the years has been witness to several fire related mishaps. Time has come to imbibe the best construction practices within the intricate relationship between life safety codes, fire risk, and combustible materials used in design of facades of high rises that make the skyline of Delhi and NCR. Addressing this issue, Aludecor, a pioneer in the world of Metal Composite Panels, offering fire safety solutions, held a discussion session between key industry thought leaders and stakeholders to exchange ideas and share knowledge about the best construction practices. Titled #BeatTheFire, the discussion was attended by Mr. Anas Rizvi,Secretary – Fire & Security Association of India (FSAI, Delhi Chapter),Ar. Divyakush, President,Indian Institute of Architects, Ar. Charanjit Singh Shah, Founder & Principal, Creative Group, Ar. Shridhar Rao, Director, r+d studio, Mr. Ashok Kr. Khurana, Director General (Retd.), CPWD and Independent Director of NBCC India Ltd., Dr. Gaurav Srivastava, Dean, IIT Gandhinagar,Ar. Sushant Verma, Founding partner & Research head, rat[LAB], Mr. Ashish Rakheja, Managing Partner – AEON Integrated Building Design Consultants; Chairman, Technical Committee of Indian Green Building Council, Mr. Rahul Gupta, General Manager, Elements Materials Technology, India andMr. Ashok Kumar Bhaiya, Chairman & Managing Director, Aludecor and Ar. Shamit Manchanda, Chief Architect – Manchanda Associates; Chairman – The Indian Institute of Architects, Northern Chapterwas the moderator of the panel discussion.
Elaborating on the initiative by Aludecor, a pioneer in the world of Metal Composite Panels, Mr. Ashok Kumar Bhaiya, Chairman and Managing Director, Aludecor, said, "In India, awareness about fire safety and security needs to grow exponentially to safeguard the high stakes in terms of human lives, assets, investments and resources. We at Aludecor have been striving to contribute in the best way possible for us towards fire safety in buildings, be it through developing the best fire-safe product or by sensitizing the industry on the importance of embracing norms that would make our country fire safe. We believe such concerted efforts are required by the stakeholders to alleviate the concerns regarding fire safety and also explore the best materials that can be put into use across high-rises which have become a norm for a metropolitan skyline. I am thankful to the stalwarts of the industry who have joined us today to take the first step towards a fire safe society for future. We are happy to showcase our latest indigenously made non-combustible metal composite panel or MCP, Aludecor Firewall A2, which has fireproof properties similar to metals. We believe together we can #BeatTheFire."
Elaborating on the need of superior fire safety norms through Panchtatva, Prof. Divyakush, President Indian Institute of Architects, said, "The five elements earth, water, fire, air and space are all interconnected with a particular direction which acknowledges the basic laws of nature. By understanding these elements and their energies, which creates in one hand and destroys on the other hand, we become more balanced with nature and achieve greater harmony in our lives as well as our children. As architects, it is essential to know that the southeast is dominated by the fire element and is the best place for fireplaces, kitchens and other electrical devices. As stakeholders we need to uphold best practices in order to have a fire free society."
Prof.Charanjit Singh Shah, Founder and Principal of Creative Group, spoke about urban challenges avoiding fire tragedy and finding solutions through the modification in BIS code, NBC and DSR specifications to suit the present scenario in terms of fire safety, said, "As stakeholders of urban architecture looking after fire safety norms should be the topmost priority. Besides developers, buyers should be equally responsible and knowledgeable about the impending hazards that can lead to fire and take cognizance to avert such situations. Fire department on their part must have integrated planning and transparent governance, and monitor implementation of fire safety rigorously."
Mr. Ashok Kr Khurana, Director General (Retd.), CPWD and Independent Director of NBCC India Ltd. spoke about the importance of using the right fire retardant metal composite panel, said, ''We have had too many deaths due to building fire, across the globe. The Grenfell tower fire in London is fresh in our memories. Delhi has seen fire casualties this month itself. Keeping this in mind it's imperative that we make the use of fire retardant materials mandatory. Metal composite panels are used heavily in our buildings nowadays. We should make the use of MCPs with fire retardant core mandatory, both for building facades and interiors. The fire retardant or mineral core helps in no propagation of fire and no smoke release. This enables evacuation of occupants and fire extinguishing easier. It doesn't only save lives, but properties as well''
Dr. Gaurav Srivastava, Dean, IIT Gandhinagar highlighted the role of the institutions in trying to upgrade the knowledge of upcoming technocrats vis-à-vis fire safety and the new testing facilities that are being created for analysis and assessment in terms of fire safety, said, "With the advent of smart cities it is a necessity to implement smart techniques to combat natural disasters and importantly a fire disaster that claim lives and properties. India is growing in the aspect of fire testing laboratories where companies can test the fire suppression or extinguishing products. More world class facilities need to come up to spread awareness to companies and industrialists about the right raw materials to be used to make a finished product and proper licenses needs to be procured to make the Country free from the devastations originating from fire."
Mr. Rahul Gupta, General Manager- India, Element Materials Technology, spoke at length about the A2 grade FR material and global best practices for certification of materials, said, "It is time that building codes and fire safety measures in our Country matches the global best practices and standards. Fire Safety norms for buildings should be our highest priority. Because of negligence or lack of knowledge people tend to lose their valuable lives. From developing fire safety design strategies, to testing and certification of passive fire products, to inspection, commissioning and certification of completed project best practices Element Materials Technology offers solutions to all stakeholders."
Speaking on the occasion, Mr. Anas Rizvi, Secretary, Fire & Security Association of India (FSAI, Delhi Chapter) said, "The rising incidences of fire have been a cause of concern for metro cities. Unplanned structures, narrow roads are nullifying the efforts by civic authorities to enforce building codes, fire safety measures and evacuation procedures trying to curb violations in a rapidly expanding city like Delhi. Building materials with fire proof properties are the need of the hour also proper planning needs to be done to make the process of firefighting easier for the fire department. On many cases we have seen that fire fighters are unable to reach the epicenter of fire due to unplanned cities. On behalf of FSAI, I welcome such initiatives which spreads knowledge and brings all stakeholders together to find solutions."
At the panel discussion today, stakeholders congregated to disseminate information, gather knowledge, exchange ideas, debate innovative perspectives, solutions and products for fire safety and security. This measure will empower decision makers with first-hand information, as well as open the stakeholders' eyes to newer possibilities in building fire-safe residential and commercial complexes.
Fire retardant (FR) materials have become an important ingredient in modern construction. With more skyscrapers towering towards the skies, fire protection has taken center stage across the world. Using genuine FR material is critical to safety in the Fire Rated Construction System. Proving a major step to arrest fire casualties Aludecor showcased their latest range of Firewall A2. Aludecor promotes the mandatory usage of fire retardant ACP in India. All of Aludecor's exterior products can be fire rated. Firewall A2 is the highest grade core of fire retardant ACP, A2. Firewall A2 has negligible heat release, doesn't contribute to flame spread, generates no smoke and produces no flaming droplets. Aludecor has also become the only Indian manufacturer to indigenously manufacture A2 core. This gains huge significance in the backdrop of the fact that Indian cities are going to have more and more skyscrapers in the future.