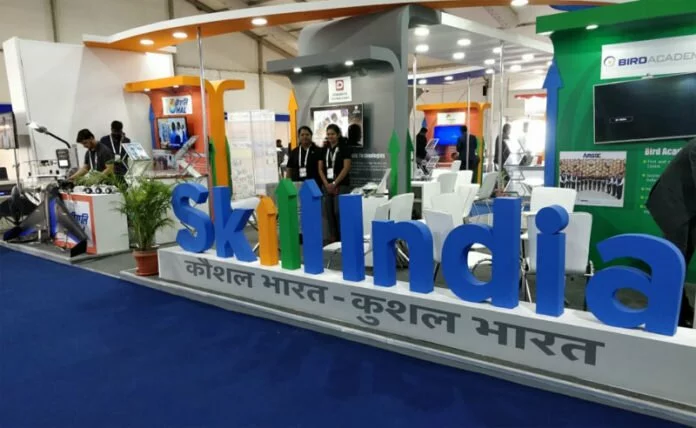 Aero Skills Pavilion from 20th to 24th Februaryto bring forth numerous skill development opportunities in aerospace and aviation sectors for the youth
Skill India to organise industry seminar on23rdFebruary on'Skilling for Creating a World-Class Workforce'
Bengaluru, February 20, 2019:Aero Skills Pavilionhosted by National Skill Development Corporation (NSDC)under the aegis ofMinistry of Skill Development and Entrepreneurship (MSDE)was inaugurated today at the Aero India Show 2019, Bengaluru.With over 15 exhibitors, the pavilion is presentingyouth with various programs and schemes to access vocational training as well as prospects leading to employment.  The pavilion also offerspublic-private partnerships for corporates and industry to engage and employ skill-trained workforce.
With an objective to create competitive and highly-productive workforce, the Aero Skills Pavilionis exhibiting innovations and techniques deployed by various training providerssuch as simulators, virtual reality devices, e-learning platforms etc. The pavilion includes participation from Aerospace and Aviation Sector Skill Council (AASSC), government agencies like Indian Air Force, Hindustan Aeronautics Ltd. (HAL), Airports Authority of India (AAI), Bureau of Civil Aviation Security (BCAS), Directorate General of Civil Aviation (DGCA), Bangalore International Airport (BIAL) etc.  The private sector participants range from Mahindra Aerospace, GMR Aviation Academy, BridgeNow Academy (P3), Dynamatic Technologies, EDS Technologies to Bird Academy, Veativeamong others.
Talking about the scope of Aero Skills Pavilion, Shri Rajesh Agrawal, Joint Secretary, Ministry of Skill Development & Entrepreneurship said, "The Government's Skill India Mission is an initiative to address the dual challenge of ensuring greater access to training as well as providing quality training leading to employment. We aim to ensure mobility into the latest technology of aerospace and aviation industry for the youth, expanding their opportunities of employment in the sector.Aero Skills Pavilionat Aero Indiais a platform to showcase enormous potential of skilling in Aerospace and Aviation Sectors and Skill India's offerings for the same."
NSDC will also be organizing an industry seminar pertaining'Skilling for Creating a World-Class Workforce' on 23rd February to provide a common platformfordiverseviews on bridging the demand for skilled professionals in these fast-growing sectorsof aerospace and aviation. The seminar would focus on strategic interventions to build capacity of the training providers, opportunities for industries, industry partnership models, National Apprenticeship Promotion Scheme (NAPS) among others.
As per industry estimates, India ranksat seventh position in the aviation market, with 187 million passengers (inbound and outbound). It is expected to become the third largest aviation market by 2022. To meet the growing demand for aviation professionals, NSDC, supported by Aerospace and Aviation Sector Skill Council (AASSC) and its training partners is working to equip workforce to be employed in Airlines, Airports, Ground Handling, Maintenance, Repair and Overhaul subsectors.There is an increasing demand in Aerospace design and development, manufacturing and assembly subsectors and with Government's initiatives like 'Make in India', the sector is gaining momentum.  The industry will need technically trained workforce to meet this growing demand.