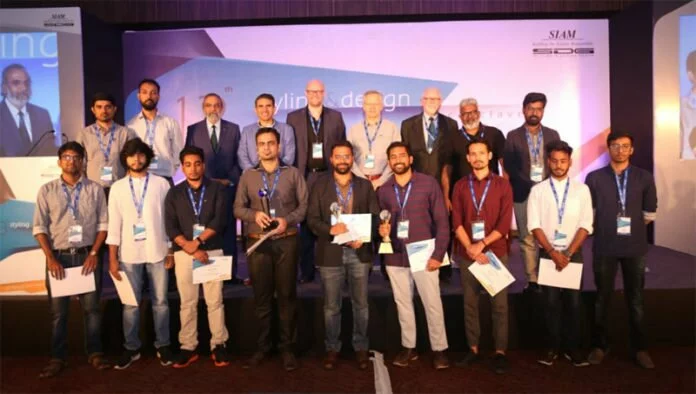 Organises 11th Automotive Design challenge
Jaipur, 25th February 2019: The 13th SIAM Styling and Design Conclave and 11th Automotive Design challenge saw a whole lot of enthusiasm throughout the day at Hotel Marriott, Jaipur. The day-long annual conclave and conclusion of Automotive Design Challenge (ADC) organized by Society of Indian Automobile Manufacturers (SIAM) based on the theme: 'Shaping Tomorrow's Mobility Business' saw a myriad of renowned and budding automotive designers, showcasing the future of automobile styling in India. Alongside, in order to encourage the youth into automotive designing, SIAM provided them with a platform through a competition, Automotive Design Challenge in the latter half of the day.
With the consumers getting increasingly picky over style and design of automobiles, while choosing their vehicle, the same is getting prioritized by the automobile industry. Thus the conclave had senior designers from India and around the globe, sharing their experiences, with case studies on iconic products, effective design process and on role of design in building and sustaining brands.
In the welcome address, Mr. Anil Saini, Chairman, SIAM Styling & Design Group, said, "Over the past years we have realized that visual features have a big role to play in brand image in today's date. In fact, style and design are the primary differentiators between products and are generating real value in automobiles. In the recent past, in bid to provide greater product varieties at competitive prices, car companies adopted platform sharing strategies. However, with changing times our strategies must evolve and as a part of this evolution, these platform sharing strategies must be supported with sufficient differentiation between design and styling of car models."
With international automotive designers like Mr. Dimitri Vicedomini, Design Project Manager, Pininfarina, Italy, Mr. Thomas Dale, Director- Strate School of Design, Mr. Mike Levy, Head of Mobility, Strate, Mr. Xavier De La Chapelle, Architect Electric Autonomous, NAVYA, Mr. Mark W. Jarvis, Head of Creative Services, UNO Minda Group gracing the occasion, the sessions talked about design identity, Mobility CMF trends, India Design story, user comfort, Future design skill sets, Electric/Autonomous Vehicle design and changing role of UI/UX along with Q&A interactions woven in between. The event was attended by more than 100 delegates.
Prof Gaurang Shah, Head, IDS Ahemadabad, an Automotive Design stalwart was awarded for his contributions to the Automotive Styling & Design Industry. He was instrumental in the development of Bajaj 'Tempo Trax'. He also designed Matador & Tempo Traveler for the ambulance, cash van & luxury variants.
Adding to the industry insights, Mr. Dimitri Vicedomini, Design Project Manager, Pininfarina said, "The automobile and transportation sector is changing continuously. In this process of evolution, the whole industry is shifting towards visual experience from being a moving experience. With such developments, it is becoming imperative for the automobile brands to focus on two key areas viz. shared mobility and owned mobility, where shared mobility focuses on the product and its technology, while owned mobility focuses on aesthetics and brand value."   
Automotive Design challenge'18 saw student entries from major design institutes across the country. By organizing this competition every year, SIAM Styling & Design Group aims to create excitement and interest about the automobile styling in India and support development of local styling professionals.
‪"From minimise we need to move to micronize. Multiple processes could be made in one or two steps. Evolved tools could lead to a newer approach to design & could help in faster product development cycles, said Mr. Thomas Dale, Director, Strate School of Design.
The competition acts as a platform for showcasing talent, creating opportunities and providing encouragement to the budding designers. The top three designs got selected by the jury and got awarded in the evening. Neeraj Jawale from NID won the ADC'18, followed by Samarjit Waghela again from NID as a first runner up and Sidharth Rath from DYPDC as a second runner up. The audience consisted of young designers, styling & design engineers, suppliers, students, design practitioners, technical persons and management executives from the automotive fraternity.
"As one of the leading autonomous vehicle manufacturers in Europe, we have been pleased to introduce new mobility service to India knowing that it could take some time to bring this technology here. We are looking to create a partnership with a few Indian companies to be able to manufacture autonomous vehicles in India, said Mr. Xavier De La Chapelle, Architect Electric Autonomous.